Request a Free Quote
Biowash Non-Pressure Roof Cleaning
Roof Cleaning Maidstone and Roof Moss Removal Maidstone
The damp climate conditions experienced throughout Kent including Canterbury, Maidstone and Ashford encourage the build-up of unsightly moss and algae growth as well as airborne dirt and pollutants on the roof tiles. Many homeowners are looking to refurbish and renovate their properties and whilst many spend considerable amounts on patios, new windows and driveways roofs are often neglected. We provide a roof cleaning and roof moss removal service in Maidstone.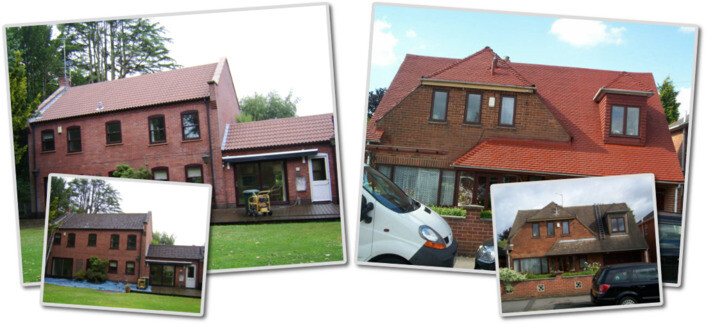 Smartseal have a network of Professional Roof Cleaners throughout the United Kingdom who offer a full range of roof cleaning and restoration services including moss removal, roof repair and roof coating and sealing in and around Maidstone, Canterbury and Ashford. All the companies we work with are experienced and are fully backed by public liability insurance and you have the peace of mind of knowing that you are dealing with a locally based roofing cleaning company who have a proven track record in the industry.
A FREE no obligation quotation service is offered by all contractors who will spend time talking through the process and benefits of having your roof cleaned, repaired and sealed.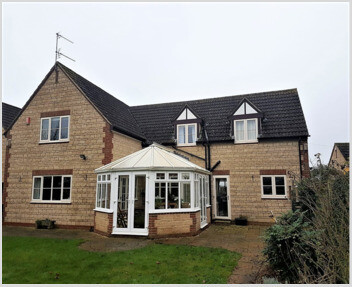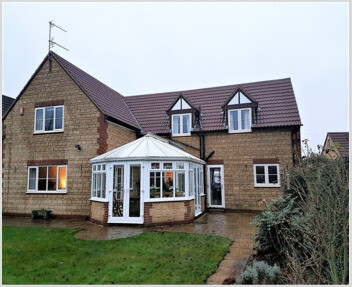 The process is outlined below:
Block or remove all downpipes to avoid moss and debris damage to subsurface drainage
Safely access your roof and carry out a full clean removing all dirt, roof moss and algae growth
Carry out on-going ground floor tidy up bagging and removing all debris.
Inspect roof for any roof repairs that may be necessary which will then be discussed with you and a quote will be given
Application of a Fungicidal treatment to kill off any remaining moss spores
Finally Option of a protective sealer in clear or colour
Climashield™ roof coating has been independently tested to several international standards of performance by the UK based Paint Research Association and if applied by a Smartseal registered installer comes with a 10-year guarantee against flaking, peeling or lifting.
Roof painting after roof cleaning
Some roof tiles can look old even after cleaning and other options may need to be considered such as roof painting. When this happens, a clear roof sealer will not help as it will not change the appearance of roof tiles. However, there is a solution which can make an old roof look like new for a total roof transformation. An application of roof coating like Climashield™ can be applied to turn an old looking roof into a new one.
For complete peace of mind, Climashield™ also comes with a 10-year Guarantee. The durable roof coating restores the surface colour of concrete roof tiles giving them the appearance of a new roof. It also leaves the roof tiles water-resistant and protected from the harmful effects of UV light. Climashield™ Roof coatings also allow roof tiles to flex, expand and contract with changes in temperature, which helps to prevent cracking.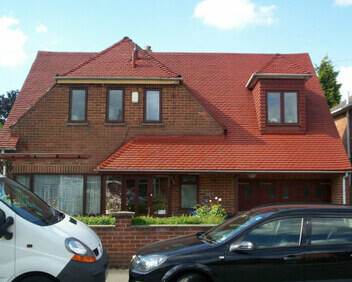 Roof cleaning is effective and affordable
A 'carpet' of green moss growing on a roof can look very unsightly and can also lead to many other problems if left unchecked. Moreover, gutters and downpipes can become blocked and the extra weight of wet moss can cause stress on a roof structure. So during the winter months, the freeze and thaw process may cause roof tiles to break. This can result in premature degradation of your roof and it can start to look unsightly. Furthermore, if this is left to deteriorate further, it could cost you a substantial amount of money for roof repairs.

The good news is that our roof cleaning moss removal services are safe, effective and can be done very quickly for most homeowners. Additionally, the cost of roof cleaning is also within the budgets of most homeowners. It can also improve the look and can add value to a property.

Call us now on 0800 849 9498 or complete our enquiry form and we will arrange for a FREE no obligation quotation for any home or business premises in Kent including Maidstone, Canterbury or Ashford and the surrounding towns and villages.