Request a Free Quote
Roof Cleaning Middlesex and Roof Moss Removal Middlesex
If your roof is covered in moss, dirt, grime and you want to know the cost of roof cleaning we can certainly help. We have a nationwide network of professional roof cleaning contractors that cover Middlesex who carry out roof cleaning and roof moss removal.

The climate across Middlesex varies throughout the year; from hot summers to warm wet winters and most roofs, like any part of a home, have a habit of getting dirty. Damp roof tiles are very susceptible to the growth of moss and algae which can cause damage to a roof if left over a long period. Furthermore, most homeowners do not have the equipment or the desire to attempt roof cleaning. This means that employing the skills of a professional roof cleaner is the only option when roof cleaning moss removal is required.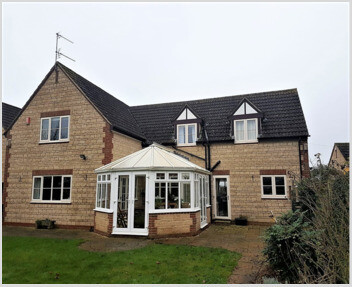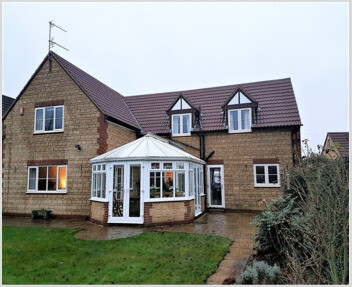 Moss on a roof is not just a cosmetic issue, many people ignore it simply because they think that it just spoils the look of their home however the truth is that the moss on your roof can actually reduce the lifespan. A roof is designed to last for a certain period of time, but the algae feed on the moisture that a roof creates. If you don't clean your roof you may find that you need a replacement roof which works out a lot more expensive than roof cleaning.
Can I paint my roof tiles?
Roof tiles are very susceptible to continuous weathering and because of this, become more and more porous over time. As a result, this creates the ideal conditions for the growth of moss and lichens on roof tiles. Roof tiles which may have looked great to start with can begin to look very tired and grubby. Most people just accept that their roof will look dirty and are not aware of the options to create a better-looking roof.
Replacing a roof is often not an option because of the expense and this is generally only done when a roof is damaged beyond repair. Roof coating or roof tile painting as some people call it is a much cheaper and more cost-effective alternative than replacing a roof. Roof coating is also a much quicker solution as it will only take a couple of days.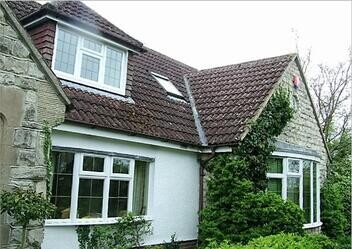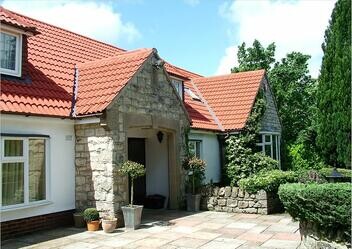 Our skilled professional roof cleaners in Middlesex are equipped to remove moss, algae and lichens. Our non-pressure roof cleaning and moss removal service is totally safe for concrete, slate, clay and metal roofs and kills and removes all the algae, mould and mildew that are responsible for discolouring your roof. The system we use destroys all of the undesirable elements staining your roof but because we do not utilise pressure your roof tiles remain completely intact. Algae and mould can cause allergic reactions and other health issues so removing them from any part of your home is a good idea.
Much of the organisms on roofs in Middlesex and the Towns of Enfield, Hayes and Ruislip are there because of the warm, moist environment a roof creates. These micro-organisms populate in an abundance growing so well that they begin to be noticeable to the human eye. Aside from getting rid of the moss and algae proper maintenance of your roof will increase its longevity and a clean roof will keep your property value higher.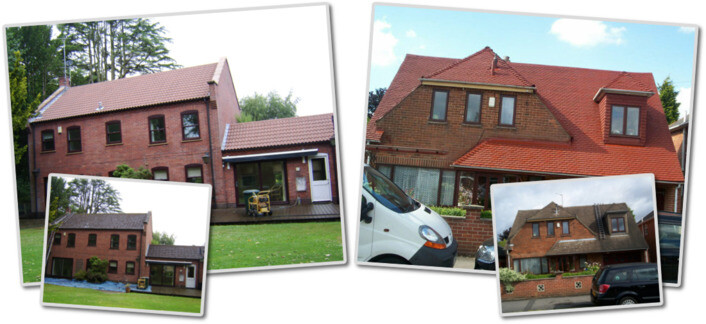 For a "Fast, Safe, Efficient and Affordable" roof cleaning and moss removal service in Middlesex call us on 0800 849 9498 or complete our online enquiry form.
Hayes and Ruislip historically in Middlesex are now part of the London Borough of Hillingdon. Both Towns have a long history and appear in the Domesday Book (1086). In Hayes, the town's oldest public house the Adam and Eve, though not the original seventeenth-century structure, has remained on the same site since 1665. The expansion of the Metropolitan Railway in the early 20th century acted as a catalyst for development in the area. A station was opened in Ruislip in 1904 and the parish council created a new urban district to address the forthcoming population growth.