Request a Free Quote
Roof Cleaning West Yorkshire and Roof Moss Removal West Yorkshire
We provide a roof cleaning and moss removal service in West Yorkshire covering the towns of Leeds, Halifax, Keighley, Pontefract, Ilkley, Wakefield and Dewsbury plus all the surrounding villages. Moss on a roof is not just a cosmetic issue, many people ignore it simply because they think that it just spoils the look of their home. However, the truth is the unsightly moss on your roof can actually reduce its lifespan. Every roof is designed to last for a certain amount of time, but the algae feed on the moisture that a roof creates. If you don't clean and maintain your roof you may find that you will need a replacement roof which is considerably more expensive than our roof cleaning and moss removal service.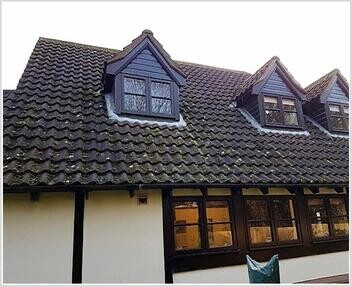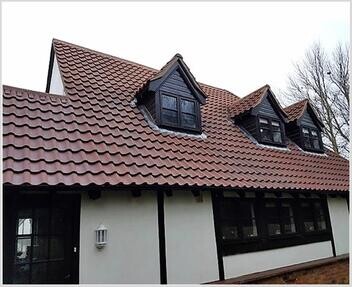 In reality, the black stains on roofs in West Yorkshire, Wakefield and Castleford are a specific type of algae known as Gleocapsa Magna. It is one of the fastest growing moulds in the World and it grows thanks to the moisture trapped in the roof as well as the tiles. Our roof restoration process will eliminate it, initially your roof will be pre-treated then washed and finally, a biocide applied to prevent regrowth. You then have the option of a protective waterproofing sealer with a 10-year Guarantee.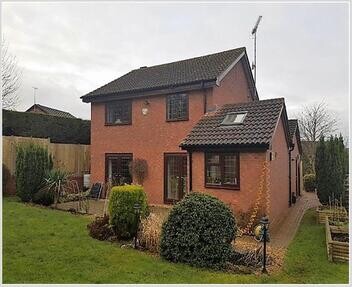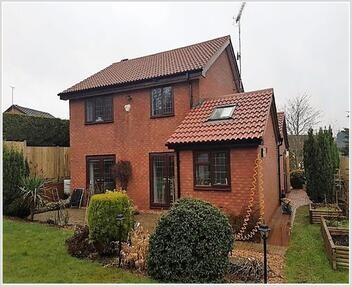 Our roof cleaning and restoration service will totally transform your home and the outside will look beautiful again, moreover, your home's kerb appeal and value have increased. Moss and mould can also be a health hazard and the spores can be a health hazard and cause breathing difficulties especially for people with Asthma. Our motto is "A clean roof is a healthy roof."
Roof Tile Painting West Yorkshire
Roof coating or roof tile painting as some people call it is a much cheaper and more cost-effective alternative than replacing a roof. Roof coating is also a much quicker solution as it will only take a couple of days.
Roof coating or roof tile painting is just one area that can make a significant difference to the value of your home. If roof tiles are left too long without being looked after, they can detract from the look of a home. Roof tiles are very susceptible to continuous weathering and because of this, become more and more porous over time. As a result, this creates the ideal conditions for the growth of moss and lichens on roof tiles. Roof tiles which may have looked great to start with can begin to look very tired and grubby. Most people just accept that their roof will look dirty and are not aware of the options to create a better-looking roof.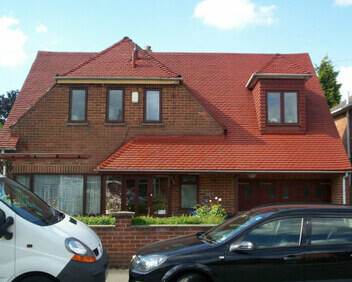 Roof Tile Sealing West Yorkshire
Having a clear roof tile sealer applied will help to protect any porous roof tiles from deterioration. Concrete roof tiles, in particular, are susceptible to moss growth, so making them non-porous can certainly help. Moreover, it is a much more cost-effective solution than the expense of a new roof.

Another problem resulting from damp, porous roof tiles is higher energy bills due to the transference of heat from inside to out. Roof tile sealing can help reduce energy bills by keeping the roof tiles dry and preventing heat transference. Moreover, it will protect and improve the appearance of the roof as well as creating an invisible barrier preventing damp penetration.
Due to the very high levels of water resistance, Climashield™ Roof Sealer provides protection against dirt and grime. Using advanced surface impregnation it seals porous surfaces without altering the natural appearance. What's more once sealed the tiles will be protected against harsh weather conditions.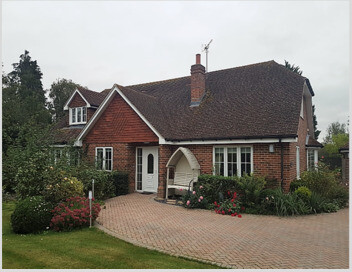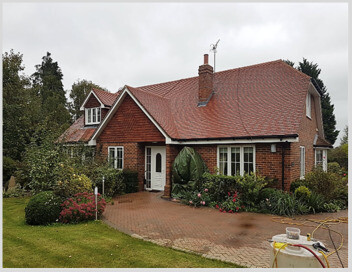 Here at Smartseal, we pride ourselves on our fast, safe and affordable roof cleaning and restoration service. We have helped many customers in Yorkshire transform the look of their home and also achieve their roof's life expectancy.
If you live in Holmfirth, Wetherby or Castleford and would like a FREE no-obligation quote for roof cleaning and moss removal from roof then please call us on 0800 849 9498 or complete our online enquiry form. WE a provide professional roof cleaning and moss removal service throughout the whole of West Yorkshire.