Request a Free Quote
Biowash Non-Pressure Roof Cleaning
Roof Cleaning Lincolnshire and Roof Moss Removal Lincolnshire
If your roof is covered in moss, dirt, grime and you want to know the cost of roof cleaning we can certainly be of help. We have a nationwide network of professional roof cleaning contractors that cover the whole of Lincolnshire. They are able to provide free roof cleaning quotes across most towns and villages. This means that affordable roof cleaning moss removal services are now available to homeowners throughout Lincolnshire including the towns of Grimsby, Stamford, Spalding and Bourne.
There are many homes across Lincolnshire with roofs that need cleaning. Because of the damp UK climate, many of these roofs have become covered in moss, algae and lichen. We can clean roofs all over Lincolnshire, covering most large towns such as Lincoln, Grantham, Boston, Cleethorpes, Grimsby, Scunthorpe, Skegness and Market Rasen.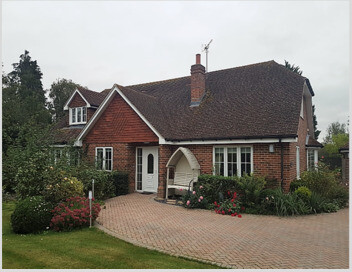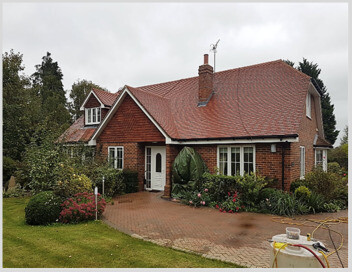 The climate in Lincolnshire varies throughout the year; from hot summers to warm wet winters and most roofs, like any part of a home, have a habit of getting dirty. Damp roof tiles are very susceptible to the growth of moss and algae which can cause damage to a roof if left over a long period. Furthermore, most homeowners do not have the equipment or the desire to attempt roof cleaning. This means that employing the skills of a professional roof cleaner is the only option when roof cleaning moss removal is required.
Having your roof cleaned makes a dramatic transformation with the roof cleared of roof moss growth and decades of built-up dirt detracting from the drive-by appeal. Our registered contractor database of professional roof cleaning companies located in Lincolnshire can carry out a quotation for a roof cleaning and restoration service on residential and commercial properties in Lincolnshire.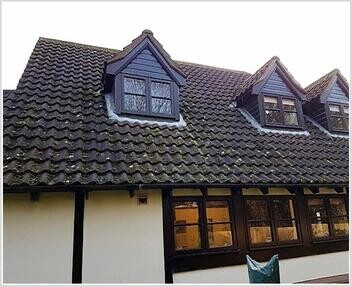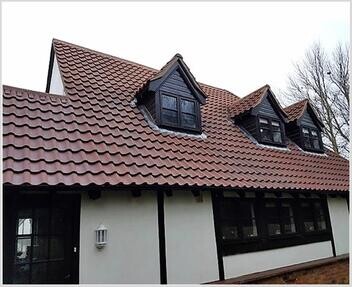 The cleaning of your roof is carried out, with ground floor areas protected with tarpaulin sheeting, using high-end professional roof cleaning equipment that will effectively and quickly transform your roof; removing all damaging moss and algae growth. Following the roof cleaning a check will be made to the entire roof structure, replacing any cracked or broken tiles, and if mortar has been displaced or eroded over the years this will be replaced to ridge tiles, hips and valleys ensuring your roof are watertight and in a well-maintained state.
Roof Coating and Painting Roof Tiles
Your home is highly likely to be the largest single investment you will ever make, so it certainly makes sense to try and protect its value. Roof coating or roof tile painting is just one area that can make a significant difference to the value of your home. If roof tiles are left too long without being looked after, they can detract from the look of a property.

Roof tiles are very susceptible to continuous weathering and because of this, become more and more porous over time. As a result, this creates the ideal conditions for the growth of moss and lichens on roof tiles. Roof tiles which may have looked great to start with can begin to look very tired and grubby. Most people just accept that their roof will look dirty and are not aware of the options to create a better-looking roof. Replacing a roof is not an option because of the expense and this is generally only done when a roof is damaged beyond repair.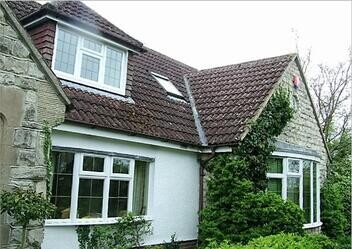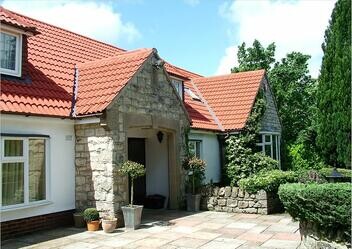 Once the roof repairs in Lincoln and surrounding towns have been completed the roof will be treated with a fungicidal treatment to eradicate all subsurface moss spores. After cleaning your roof would benefit from one of water repellant protective sealer with a 10-year guarantee.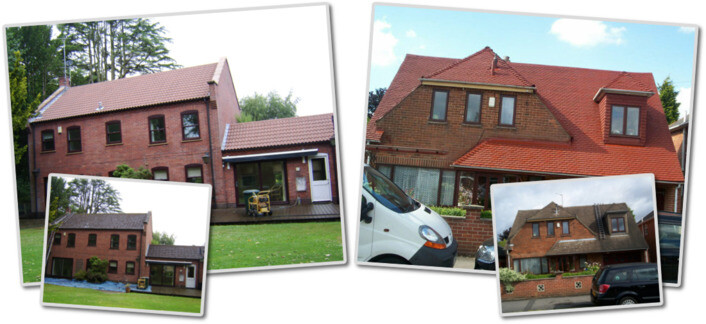 Our roof cleaning service is FAST, SAFE AND AFFORDABLE, your property will be transformed and the kerb appeal restored. If you would like a FREE no obligation quote for any roof cleaning or roof moss removal in Lincoln, Grantham, Boston or Cleethorpes, roof repairs and roof sealing anywhere in Lincolnshire then please call us on 0800 849 9498 or complete our enquiry form.