Request a Free Quote
Roof Cleaning North Yorkshire and Roof Moss Removal North Yorkshire
We provide a roof cleaning and roof moss removal service throughout North Yorkshire. The damp climate in the UK can create the perfect conditions for moss, algae and lichens to thrive on a roof. Not only does moss look unsightly but it can also cause other problems such as gutters and downpipes becoming blocked. In addition, the extra weight of wet moss can cause stress on the roof structure. What's more, during winter the freeze-thaw process may cause tiles to break. This can cause premature degradation and the appearance of your roof to deteriorate. Plus it could also cost you a substantial amount of money in roof repairs.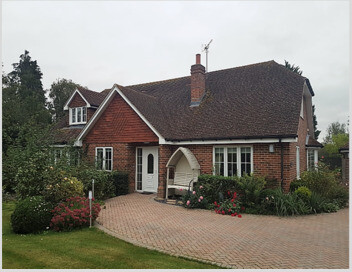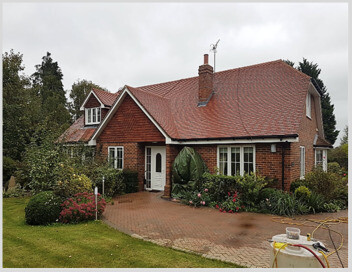 Organisms and bacteria are on many roofs because of the damp climate in the UK. However, there is good news we can safely and effectively get rid of this rooftop menace. The first step is to carry out the roof moss removal with specialist equipment. After this, we then treat it with Moss Clear Pro biocide. This is a high-grade microbiological biocide to impregnate the roof tiles and stop germination of the spores. In addition, inhibiting the regrowth of moss lichens and algae. Plus it remains active for approximately 3-4 years, we then advise regular maintenance treatments. Moss Clear Pro can be used all year round, and it is a safe and green way to prevent algae and moss.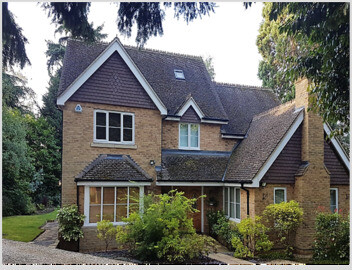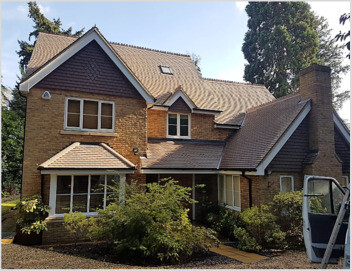 Roof Tile Painting North Yorkshire
Roof tiles are very susceptible to continuous weathering and because of this, become more and more porous over time. As a result, this creates the ideal conditions for the growth of moss and lichens on roof tiles. Roof tiles which may have looked great to start with can begin to look very tired and grubby. Most people just accept that their roof will look dirty and are not aware of the options to create a better-looking roof.
Painting roof tiles with a high-quality roof coating like Climashield™ from Smartseal can give old roof tiles a total transformation. If roof tile paint is applied by professionals it can make old roof tiles look like new again. Having a roof tile paint applied can restore the surface colour of concrete roof tiles giving the impression of a new roof. Moreover, the roof tile paint will protect the roof tiles from the harmful effects of UV light and leave it water resistant. In addition, Climashield™ roof coating is specially formulated to allow the roof tiles to 'breathe' and flex which helps to prevent them from cracking.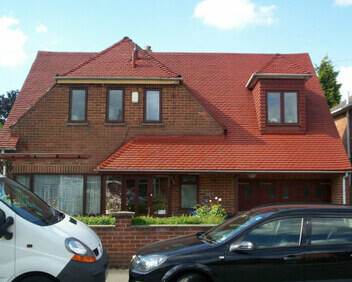 Roof Tile Sealing North Yorkshire
Having a clear roof tile sealer applied will help to protect any porous roof tiles from deterioration. Concrete roof tiles, in particular, are susceptible to moss growth, so making them non-porous can certainly help. Moreover, it is a much more cost-effective solution than the expensive replacement of a roof. This is why roof tile sealing is a popular choice for many homeowners in Whitby, Skipton, Helmsley and Pickering.
Smartseal's Clear Roof Sealer is a superior high-quality, general-purpose treatment to impart excellent water repellency and stain resistance to all types of roof tiles. The unique formula significantly reduces the capillary water absorption of the treated surface. It doesn't clog the pores or capillaries thus significantly reducing organic soiling and moss and algae growth whilst still allowing the roof tiles the ability to "breathe".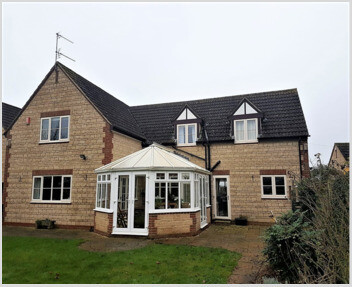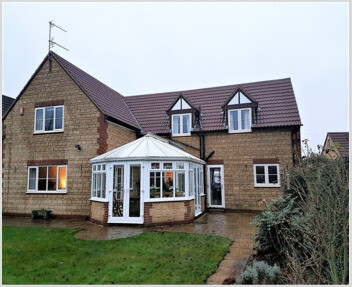 The 'Smartseal Registered Contractor' network is a collective of professional long established roof cleaning contractors. They all have extensive experience in cleaning roofs carrying out moss removal on roofs to protect and enhance the visual aspect. The benefit of obtaining a price via Smartseal is that you are dealing directly with the company that will be carrying out the work with a pricing structure not layered with canvassers, salespeople, "managers" and then sub-contracting the work out to an unknown third party.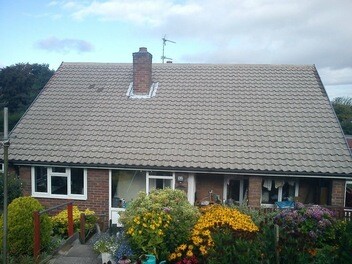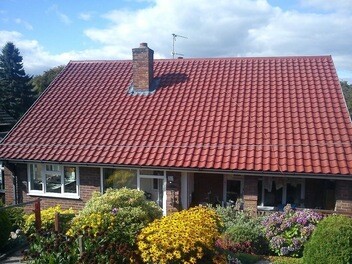 Benefits of Having your Roof Professional Cleaned:-
• Immediate, Beautiful Results that Last
• Experience with a Proven Record
• Fast, Safe and Affordable
• Our Process Eradicates Algae, Mold, Bacteria, Lichen & Moss
• Prolongs the Life of Your Roof
• Causes No Damage to Roofs
• Fully Insured
If you are looking to have your roof cleaned then look no further, you can relax in the knowledge that you are dealing with a professional roof cleaning company. Our roof cleaning and moss removal service are Fast Safe and Affordable.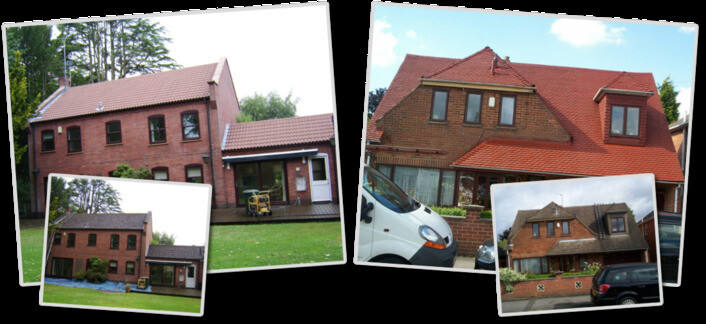 Commercial and Industrial Roof Cleaning
We are able to clean roofs on all types of commercial properties including Hotels, Schools, Warehouses, offices, factories and all types of industrial premises. For more information on this service click here.
We have a network of independent 'Professional Roof Cleaners' operating throughout the UK. They have trained in the use of our products and provide a full range of roof moss removal and restoration services. To help you obtain a competitive price up to 3 Registered Contractors will be given the opportunity to submit a quote to undertake the work. Our Registered Roof Cleaning Contractors are Independent Businesses, who should at all times conduct themselves professionally and responsibly.
By working with a 'Smartseal Registered Contractor', you have the peace of mind of knowing that you are dealing with an established company. Moreover, they have a proven track record in the industry with many happy and satisfied customers
If you would like a FREE no-obligation quote for roof cleaning, roof moss removal, roof repairs and an application of roof coating in Ripon, Thirsk, Scarborough or anywhere in North Yorkshire then call us now on 0800 849 9498 or complete our enquiry form.