Retirement Home Roof Cleaning and Biocide Treatment
Roof Cleaning at large Retirement Home in Yorkshire
Nationwide Roof Cleaning have Registered Contractors that specialise in commercial roof cleaning. From schools to offices, warehouses to churches, our professional commercial roof cleaners are able to carry out any industrial roof cleaning projects throughout the UK. With the flexibility to adapt to any roof type our Registered Contractors are fully equipped to offer the highest quality moss and algae removal, gutter and drain cleaning and protective treatments to all clients.
We were contacted by the Owners of the Retirement Home, they needed the moss to be removed and the roof cleaned and protected but importantly they required professionals who could handle this type of work that could provide Risk Assesment and methody statements. We arranged for our Commercial Roof Cleaners Tony Shaw to contact and arrange a quote. They provied all the necessary method statements and also quoted for a cherry picker for easy access to the roof. As it was a retirement home they had to be aware of health and safety as there would be people walking in and out of the building at all times.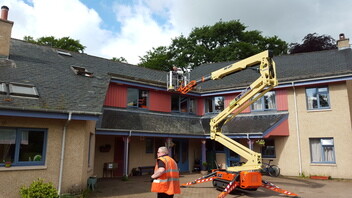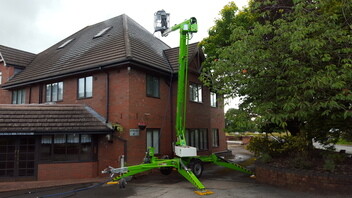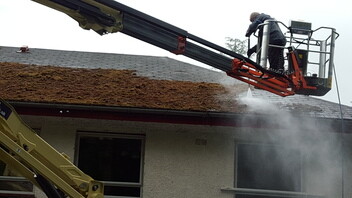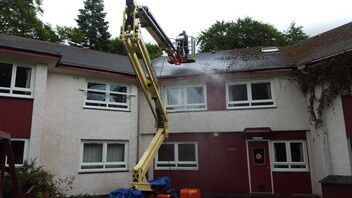 As you can see, the images showcase the wonderful work Tony and his team completed. The customers were very delighted with the transformation of the retirement home.
Tony and his team are fully insured, competent in high level cleaning, with IPAF and CSCS accreditation, so can safely access high levels or work in a busy commercial site environment. They use purpose designed industrial cleaning equipment and can provide their own water supply, if necessary, by way of a trailer mounted bowser. This is just one of their many advancements that make them some of the best experts in the industry for roof cleaning and coating services
For a no obligation FREE Survey and quotation or further advice please call 0800 849 9498 or contact us online