Commercial & Industrial Roof Cleaning
Nationwide Roof Cleaning specialises in all types of commercial and industrial roof cleaning. We clean roofs on schools, office blocks, warehouses, churches, shops, hotels and residential homes. Our professional commercial roof cleaners are able to carry out any commercial and industrial roof cleaning projects throughout the UK. They are also experienced in removing moss and algae on roofs and walls.
The damp climate in the UK can create the perfect conditions for moss and algae to thrive on a roof. Not only does moss look unsightly but it can also cause other problems such as gutters and downpipes becoming blocked. Also, the extra weight of wet moss can cause stress on the roof structure. What's more, during winter the freeze-thaw process may cause tiles to break. This can cause premature degradation and the appearance of your roof to deteriorate. Plus it could also cost you a substantial amount of money in roof repairs.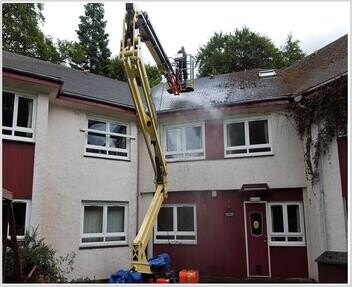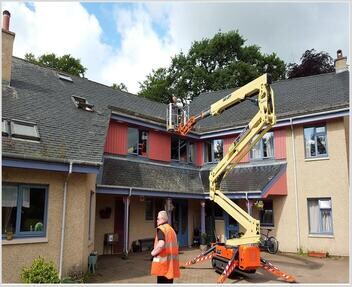 How is roof moss removal carried out?
Roof moss removal is carried out using specialist cleaning equipment. After the clean, the biocide treatment will be applied to the roof with specialist spraying equipment. The cleaning process will remove all moss, algae, lichen and dirt residue that has grown over the years. We will clean and remove rubbish to ensure the property is left clean and tidy.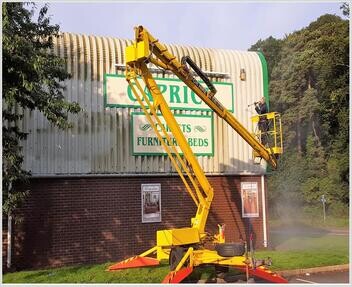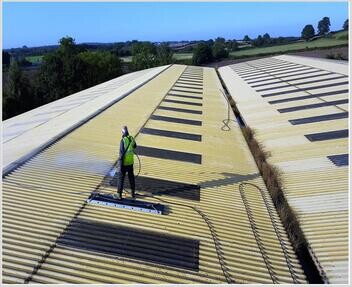 Roof moss removal improves the look of your property
A dirty moss covered roof looks unsightly but once clean it's absolutely amazing the transformation it can have on a property. First impressions always count and keeping the roof clean will add value to your property. A dirty moss covered roof aesthetically will have a detrimental effect on the value of a property. Furthermore, many surveyors are recommending that the moss is removed. What's more, this often results in a higher price being obtained. Therefore it makes sense financially to have this service carried out before you sell.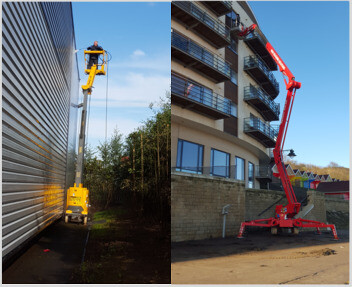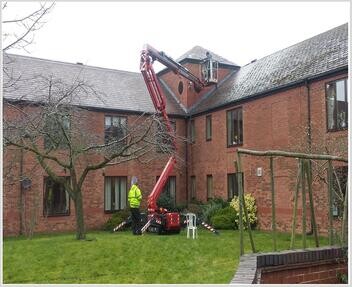 Our Commercial and Industrial Roof Cleaning Service will safely remove moss, dirt, algae and other organic matter. Our process causes minimal disruption, but we are prepared to work outside of regular working hours. We specialise in cleaning all types of commercial and industrial buildings. Furthermore, we provide FREE no-obligation quotes for roof cleaning. We are also able to provide Risk Assessment and Method Statements.

We have a network of independent 'Professional Roof Cleaners' operating throughout the UK. They have trained in the use of our products and provide a full range of roof moss removal and restoration services. To help you obtain a competitive price up to 3 Registered Contractors will be given the opportunity to submit a quote to undertake the work. Our Registered Roof Cleaning Contractors are Independent Businesses, who should at all times conduct themselves professionally and responsibly.
By working with a 'Smartseal Registered Contractor', you have the peace of mind of knowing that you are dealing with an established company. Moreover, they have a proven track record in the industry with many happy and satisfied customers.
For a FREE site survey and quotation please call us on 0800 849 9498 or complete our online enquiry form
Get A Free Quotation

Non Pressure Cleaning