Biowash™ Wall and Render Cleaning
The damp climate, pollution and the environment in Great Britain can cause significant damage to the render on domestic, industrial and commercial buildings. Moss growth, algae and pollution can cause serious damage if left untreated.
Over time exterior render becomes dull and moss, algae and pollutants, take over, leaving the building looking tired, stained and worse for wear. Via our network of Biowash™ Render Cleaning professionals, we specialise in safe and effective exterior cleaning. Using the Biowash™ advanced non-pressure cleaning technology we gently remove dirt and build of grime without damaging the render.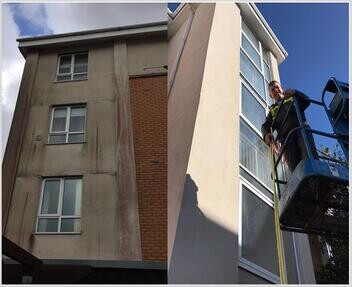 Above Biowash™ on a KRend Clean using Biowash™ Surface Cleaner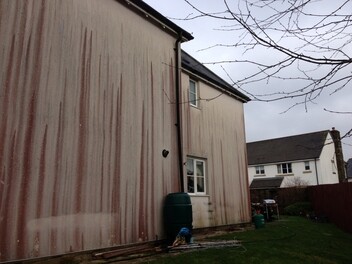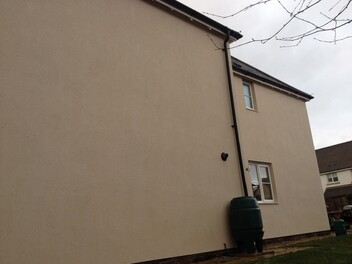 Our professional Biowash™ Authorized Agents provide a reliable nationwide render cleaning service at competitive prices. From the initial survey to completion, we will plan and organise every aspect of your building cleaning project. The process we use utilises a combination of the Biowash™ non-pressure soft wash cleaning equipment and Biowash™ cleaning products.
Regardless of the size of building and material, it is constructed from, we can totally transform any low or high-level building exterior that is affected by dirt, algae or staining without risk of damaging the render. Our render cleaning professionals will remove the significant buildup of staining caused by pollution and moisture ingress. They specialise in the safe and highly effective cleaning of external walls, building facades, flat roofs, fascia's and soffits.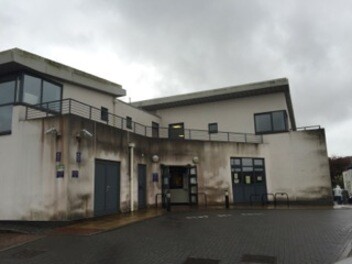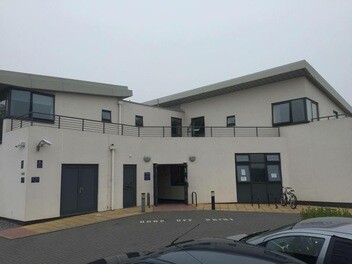 Remove Green Algae from Walls and Render
Different brands of render should be appropriately treated before any cleaning work begins, effectively killing off spores to prevent regrowth. The rendered surface is suitably prepared with Biowash™ surface cleaner and is then gently rinsed off at low pressure to gently remove algae, dirt and pollutants. The exterior of your rendered property is fully restored, bright, clean and with no damage to the render.
Before any work is undertaken a full site survey is carried out and a detailed written quotation is provided. Health and safety standards are always adhered to and our Biowash™ Authorized Agents are professionals with a track record in the industry. They are also happy to discuss the possibility of working out of normal hours and at weekends.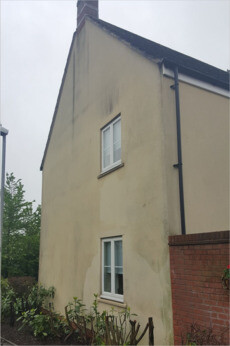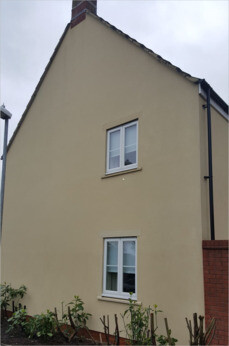 Shortly after completion of the cleaning process, we will apply our Biowash™ Surface Protector which is a powerful preventative treatment to protect the render and reduce ongoing maintenance and cleaning costs.
For more information on our range of render and building cleaning services or to arrange a no obligation survey and quote call 0800 849 9498
Get A Free Quotation