Roof Painting Cheshire & Roof Coating Cheshire
This was a professional roof coating project and full roof restoration service carried out by one of our Registered Contractors in Cheshire
The images below show the stages of the roof restoration project. The bungalow has beautiful landscaping but the roof ruined the whole look of the property as it was dirty and covered in moss. If the moss wasn't removed, it could have led to all sorts of issues that could have been expensive to fix.
This first image shows the roof being cleaned, which has to be done before any roof coating or roof sealing can be undertaken. Our professional contractors always try to work in accordance with their customer's expectations and only request payment and leave a job once these have been met. The work may look easy, but it's very hard and dirty work. You only have to look at all the muck and moss that has to be removed and cleaned up afterwards. Our roof cleaning contractors in Cheshire all have full public liability insurance as well.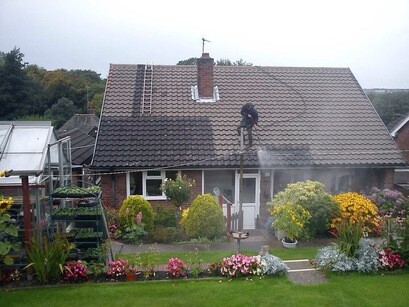 The image above shows the roof tiles being pressure washed. The transformation showing the roof tiles that have been cleaned and those that haven't is quite amazing. Most of our customers are quite astonished at the before and after results.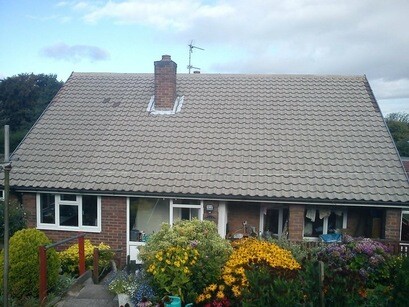 In the image above, the roof has now been completely pressure washed and the original roof tiles are now clear to see. However, although the roof is now clean, if it is left like this it is very porous and any dirt, algae or moss could quickly return. The best solution is to have the roof sealed or coated which can help to prevent this from happening in the short term.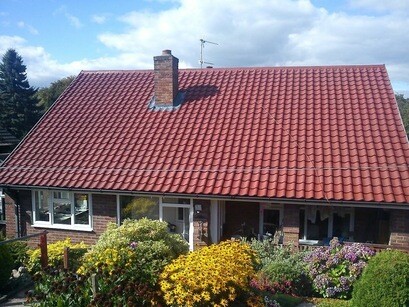 The final part of the roof coating Cheshire process is to show the roof after Climashield roof coating in Rustic Red has been applied. The results are amazing and the roof and property in general are transformed.