Roof Cleaning and Coating in Derbyshire
This was a roof cleaning and restoration project carried out by our Registered Contractor Darren Castle. He is an expert in roof cleaning, roof painting, roof restoration and roof repair projects. We have many contractors like this who are very clued up on what they do. Here's the basic process that Duncan went through:
1. Covered all surrounding areas around the property with protective tarpaulin
2. Disconnected and protected all gutter downpipes to prevent any blockages whilst cleaning took place.
3. Set ladders in position ready for cleaning with safety harness in place to comply with health and safety procedures
4. Deep cleaned the complete roof tiled area using specialist cleaning machines
5. Removed all moss and algae working from the ridge down
6. Replaced any broken tiles and repointed ridge tiles where necessary
7. Application of Smartseal Moss Clear Pro Biocide Treatment
8. Cleaned and removed all rubbish to ensure property was left clean and tidy
The customer was extremely pleased with the results and said that they would be happy to recommend Duncan to their frends who were interested in a roof clean.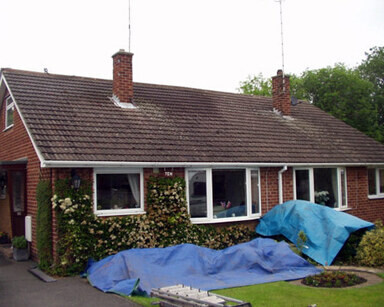 Our client was having trouble selling his property. The house was fantastic inside but from the estate agent feedback it became apparent that people who viewed the house said the house had a damp look about it. We cleaned the moss away and repointed the roof. The house sold within a week and Ivan was delighted with the result.
From the Customer:
Dear Darren, we are delighted with the end result and cannot speak highly enough of team 3 who worked to transform the look of our home. One word… breath-taking. Janet our neighbour says she will be getting in touch. John & Becky - Nottingham
If you are interested in receiving a FREE quote then please contact us on 0800 849 9498 TODAY where we are only too happy to help!