Roof Clean and Restoration in Derby
Mr & Mrs Longthorne in Derby contacted us as they were interested in having a complete roof restoration. We asked our Registered Contractor Darren Castle to contact them to arrange a survey of thier home and he provided a detailed quotation for the work which they were happy with. They chose the Climashield Terracotta Roof Coating and Darren's team arrived on the agreed date and carried out the following works:-
1. Covered all surrounding areas around the property with protective tarpaulin
2. Disconnected and protected all gutter downpipes to prevent any blockages whilst cleaning took place.
3. Set ladders in position ready for cleaning with safety harness in place to comply with health and safety procedures
4. Deep cleaned the complete roof tiled area using specialist cleaning machines
5. Removed all moss and algae working from the ridge down
6. Replaced any broken tiles and repointed ridge tiles where necessary
7. Application of Smartseal Moss Clear Pro Biocide Treatment
8. Application of 2 coats of the Climashield Terracotta Roof Coating
8. Cleaned and removed all rubbish to ensure property was left clean and tidy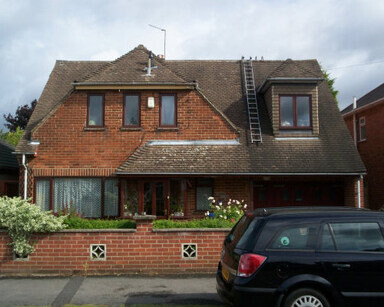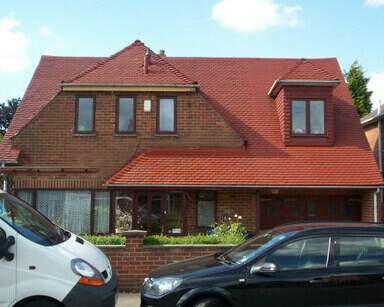 Benefits of Roof Restoration with Climashield™ Roof Coating
Improves the look of your home
Adds value to your property
Protects from moss, fungi & lichens
Extends the life of your roof
Penetrates and rejuvenates
Highly Durable
Prevents water penetration and protects against frost damage
Easy to clean
10 Year Product Guarantee
Proven Performance
ClimaShield is a superior quality roof coating and was independently tested to ensure it met with the highest standards of quality and has been awarded product certification to the highest industry standards by the Paint Research Association. ClimaShield Roof Coating was tested in accordance with BS EN ISO 6860 and TR010/ISO 4892-3 for resistance to accelerated weathering, equivalent to 5 years outdoor exposure in Europe. The results of these tests showed no sign of embrittlement or degradation of the coating.
Climashield Roof Coating is available in a variety of colours, for a colour chart and leaflet with more information or for a no obligation FREE SURVEY and quotation for roof cleaning and coating please call 0800 849 9498 or contact us online.