Roof Cleaning with Protective Biocide Treatment
Mr & Mrs Boscombe in Oxford contacted us asking if we could quote as they had a lot of moss and dirt on their roof and they wanted it removed. We asked our Registered Contractor Stuart Babbs to contact them to quote for the work. Stuart visited them and surveyed the roof and advised them that the could pressure wash the roof and then apply a biocide treatment to prevent the moss returning. He then built in a maintenance treatment whereby he would return in 4 year times and apply another treatment to keep the moss at bay.
Below is how he cleaned Mr & Mrs Boscombes roof
1. Covered all surrounding areas around the property with protective tarpaulin
2. Disconnected and protected all gutter downpipes to prevent any blockages
3. Set ladders in position ready for cleaning with safety harness in place to comply with health and safety procedures
4. Deep cleaned the complete roof tiled area
5. Removed all the dirt, moss and algae working from the ridge down
6. Replaced several broken tiles and repointed ridge tiles where it was necessary
7. Applied Smartseal Moss Clear Pro Biocide Treatment
8. Cleaned and removed all rubbish to ensure property was left clean and tidy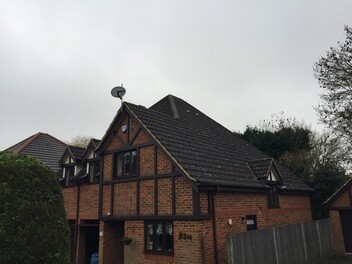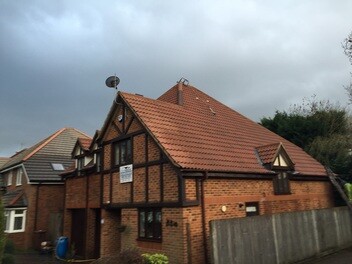 The results were outstanding the roof looked almost new again and the customer was extremely pleased with the results.
Information on Biocide Treatment
Moss Clear Pro is a highly effective microbiological biocide treatment for moss, algae, fungi and lichen. After pressure cleaning it acts as a preventative treatment. Moss Clear Pro will impregnate into the tiles and stop germination. It sits on the roof tiles and keeps working, what's more will reactivate after it rains.
For a no obligation FREE Survey and quotation or further advice please call 0800 849 9498 or contact us online