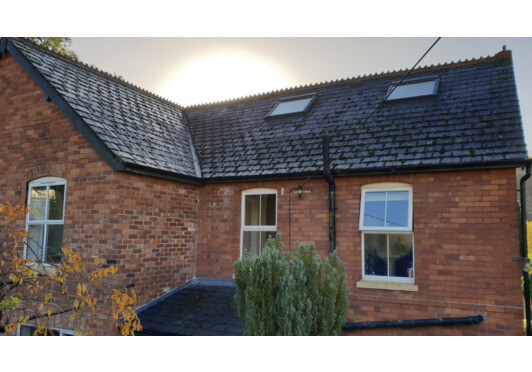 Biowash™ Non Pressure Roof Cleaning on Slate Roof Tiles
5-Star Review on Slate Tiled Roof Cleaning
Kim from Northamptonshire contacted us in October for a quote to have her roof cleaned. She was worried that being an old property and having slate roof tiles that it could be harmful to the roof. We assured her that we could clean the roof without any damage to the tiles with our non-pressure cleaning method. Kim was happy to proceed and we asked our Biowash™ agents who cover the Northamptonshire area to provide her with a quote. She was very happy with the price quoted and decided to go ahead with Smartshield UK who subsequently carried out the work.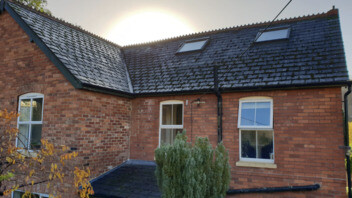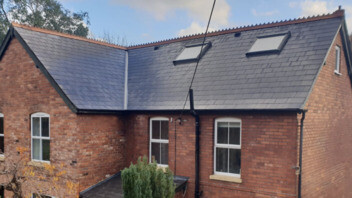 Biowash™ non-pressure cleaning
Our BioWash non-pressure cleaning process will clean your roof and increase your home's kerb appeal. Our roof cleaners are certified and experienced at washing away algae and dirt from roofs from ground or gutter level. The Biowash non-pressure roof cleaning method utilises professional equipment and cleaning products to safely, yet effectively remove years of grime from your roof.
Biowash™ Cleaning Method
First, we treat your entire roof with our
Biowash™ Surface Cleaner.
This kills all the mould and algae and breaks down contaminants such as dirt, pollen, dust, spider webs, and virtually everything else that isn't supposed to be there. We then wait a short while to allow this to work, we then do a gentle rinse to flush all the loose contaminates off your roof. Our Biowash™ Surface Cleaner gets into the nook and crannies, it kills the mould and algae on the microscopic level and removes spores that cannot be seen. After the cleaning process, Biowash™ Surface Protector is applied, this prevents re-growth.
To view more before and after transformations please
click here
More Articles