Request a Free Quote
Roof Cleaning Leicestershire and Roof Moss Removal Leicestershire
If your roof is covered in moss we can help with our roof cleaning and roof moss removal service. The damp climate in Leicestershire can create the perfect conditions for moss, algae and lichens to thrive on a roof. Not only does moss look unsightly but it can also cause other problems such as gutters and downpipes becoming blocked. In addition, the extra weight of wet moss can cause stress on the roof structure. What's more, during winter the freeze-thaw process may cause tiles to break. This can cause premature degradation and the appearance of your roof to deteriorate. Plus it could also cost you a substantial amount of money in roof repairs.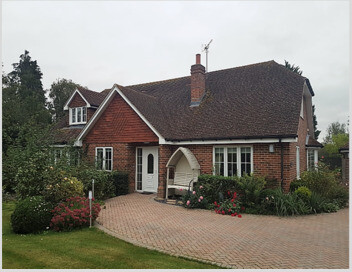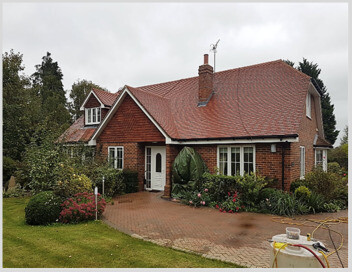 Our registered roof cleaning contractors cover most parts of Leicestershire. They can provide a comprehensive roof cleaning, roof repair and roof painting service for homeowners all over Leicestershire. Although we specialise in roof restoration for residential properties, we also do a fair amount of commercial roof cleaning in towns across Leicester such as Market Harborough, Loughborough, Syston and Melton Mowbray.
Roof Tile Painting
Roof tiles are very susceptible to continuous weathering and because of this, become more and more porous over time. As a result, this creates the ideal conditions for the growth of moss and lichens on roof tiles. Roof tiles which may have looked great to start with can begin to look very tired and grubby. Most people just accept that their roof will look dirty and are not aware of the options to create a better-looking roof. Replacing a roof is not an option because of the expense and this is generally only done when a roof is damaged beyond repair.

Roof coating or roof tile painting as some people call it is a much cheaper and more cost-effective alternative than replacing a roof. Roof coating is also a much quicker solution as it will only take a couple of days.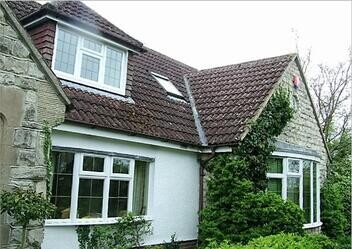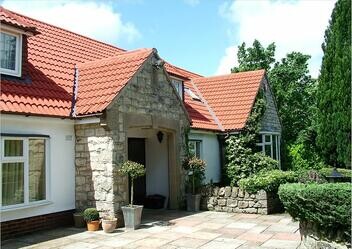 There are many types of properties across Leicestershire ranging from new builds to older style houses. It follows that there are a wide variety of roof types that often get covered in dirt, moss and algae over time. We have the solution by providing a professional roof repair and roof cleaning service at a price level that would fit into most people's budgets.

If you live in Leicester and need your roof cleaned and cleared from moss, make sure you contact a reputable company to carry out the roof cleaning work. All our roof cleaning contractors covering Leicester have been vetted by us to ensure that they can carry out a professional roof cleaning exercise for you.
Roof Tile Sealing
Climashield™ Clear Sealer with a 10 Year Guarantee will help to protect the roof tiles from deterioration. What's more, it is a cost-effective solution than the expensive replacement of a roof. Damp roof tiles also contribute to higher energy bills due to the transference of heat from inside to out. This can help reduce energy bills by keeping the roof tiles dry. Moreover, it will protect and improve the appearance as well as creating an invisible barrier to prevent damp penetration.
Due to the very high levels of water resistance, Climashield™ Roof Sealer provides protection against dirt and grime. Using advanced surface impregnation it seals porous surfaces without altering the natural appearance. What's more once sealed the tiles will be protected against harsh weather conditions.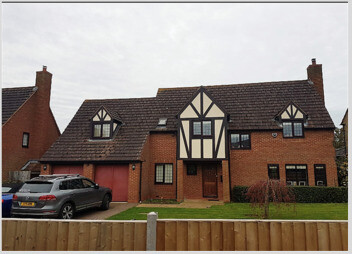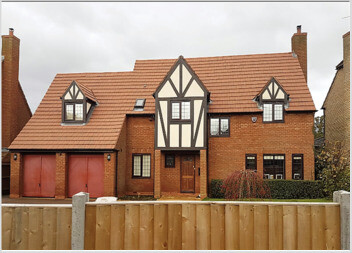 Sometimes it may be necessary to carry out minor roof repairs, we have undertaken many roof repairs over the years on homes in Market Harborough, Melton Mowbray and Loughborough. After roof repairs have been done, we always advise our customers to have a protective roof coating or roof sealer applied. The roof coatings can make an older style roof look like new, and the clear roof sealers are highly protective whilst retaining the original look of the roof. Smartseal's Climashield™ roof coating comes with a 10-year guarantee when applied by a Smartseal roof cleaning contractor.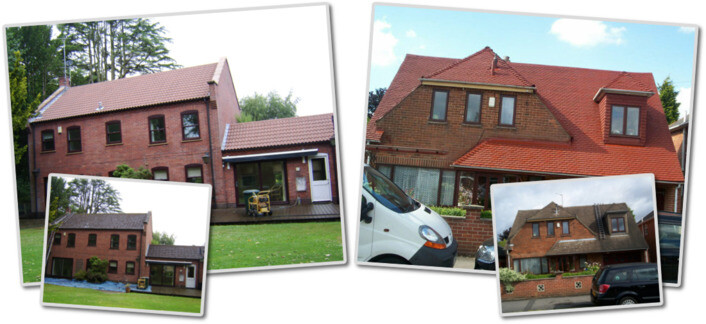 All of our roof cleaners in the county of Leicestershire will provide FREE roof cleaning quotes for homeowners and commercial customers. Just call our roof cleaning line on 0800 849 9498 or complete our enquiry form and we will arrange for a FREE site visit and roof cleaning quote as quickly as possible. We cover most Leicestershire towns including Market Harborough, Oakham, Wigston, Melton Mowbray and Loughborough.