Request a Free Quote
Biowash Non-Pressure Roof Cleaning
ROOF CLEANING DERBYSHIRE & ROOF MOSS REMOVAL DERBYSHIRE
Like many other counties, Derbyshire has a diverse range of properties; from old housing stock in rural areas to a number of new housing developments. Because of this, there are a large variety of roof types as well as many roof maintenance issues that crop up from time to time. 'Roof cleaning Derbyshire' is a frequently searched for term on Google and other search engines as homeowners look for roof cleaning companies in the Derbyshire area. Roof moss removal is something many homeowners in Derbyshire are also looking for especially on the older homes with very porous roof tiles.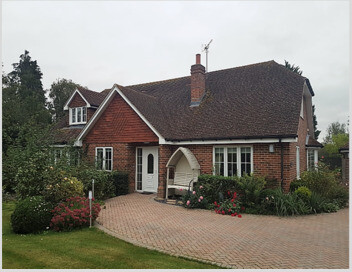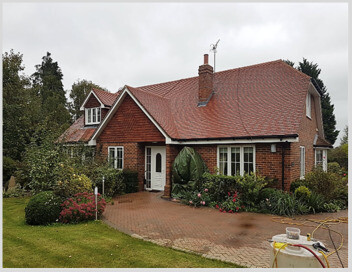 There are many residential and commercial properties in Derbyshire and a large number of them have dirty moss covered roofs. This is something that needs to be looked at now and again as these roofs will deteriorate over time, which could result in costly repairs. The good news is that Smartseal via our network of registered roof cleaning contractors offer a professional roof cleaning service throughout Derbyshire. The roof cleaning contractors provide a professional roof moss removal service that can transform the look of old moss covered roofs
HOW IS ROOF CLEANING CARRIED OUT?
Once a roof has been surveyed and the roof cleaning quote accepted, your roof will be fully deep cleaned using specialist cleaning equipment. The roof moss removal process will remove all moss, algae, lichen and any other dirt residue that has built up over decades. After the roof has been cleaned we will then treat it with a moss killing biocide to prevent any re-growth of moss in the immediate future. For further protection, you also have the opportunity of a weatherproofing sealer applied. Throughout the roof cleaning process in Derbyshire, our contractors will make sure that downpipes are protected, with the gutters fully cleaned out and left clear of any debris. By working with a Professional Roof Cleaning Company you have the peace of mind of knowing that you are dealing established company who have a proven track record and many satisfied customers.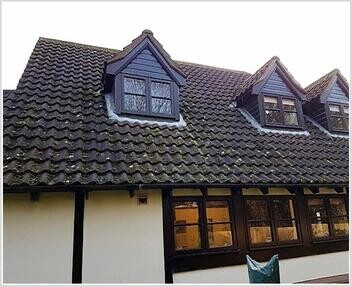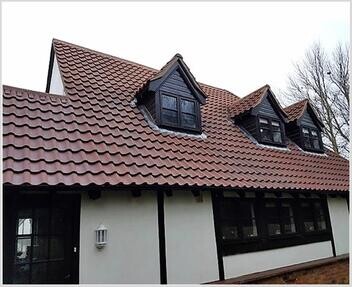 We are able to provide free quotes for roof cleaning and roof moss removal in most towns and villages in Derbyshire. If you live in Derby, Buxton, Chesterfield, Matlock or Ashbourne or anywhere nearby you can contact us for a free roof cleaning estimate.
ROOF PAINTING DERBYSHIRE
Roof coating or roof tile painting is just one area that can make a vast difference to the value of your home. Painting roof tiles in Derbyshire with Climashield™ roof coating can give an old roof a total transformation. When carried out by professionals it can make old roof tiles look like new again. Having a roof tile paint applied will restore the surface colour of concrete roof tiles giving the impression of a new roof. In addition, the roof tile paint will protect the roof tiles from the harmful effects of UV light and leave it water resistant.

Roof tile painting in Derbyshire is becoming more and more popular as many homeowners start to see the benefits of this process. Sometimes, roof tiles can look 'washed out' after pressure cleaning and a roof sealer will not change this. Roof coating or roof tile painting is a cost-effective solution to restoring the colour of old looking roof tiles. You can discuss this option with one of our professional roof cleaning contractors at the time of their visit.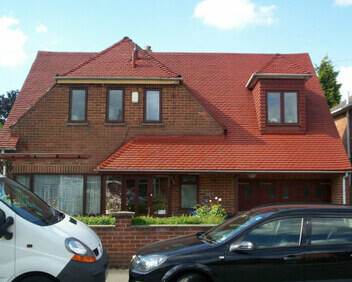 NON-PRESSURE ROOF CLEANING
There is also another option available for homeowners who have reservations about their roof being pressure washed. We can also offer the Biowash™ non-pressure roof cleaning process which is carried out from the ground or at the gutter level. This is an ideal method for fragile clay and slate tiles as your roof will not be walked on. It is also a preferred method when cleaning walls and renders as they will not be pressure washed.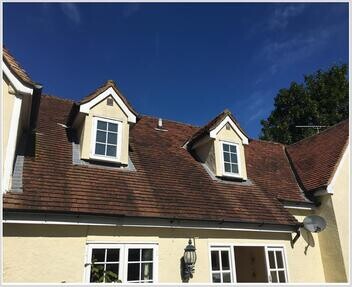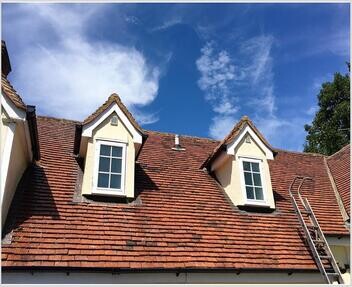 For a no obligation FREE quotation for roof cleaning in Derbyshire please call 0800 849 9498 or complete our online enquiry form.