Request a Free Quote
Biowash Non-Pressure Roof Cleaning
Roof Cleaning Newmarket and Roof Moss Removal Newmarket
Newmarket is a market town in the English county of Suffolk and is generally considered the birthplace and global centre of thoroughbred horse racing and has over fifty horse training stables, two large racetracks, and one of the most extensive and prestigious horse training grounds in the world. It is home to over 3,000 racehorses, and it is estimated that one in every three local jobs is related to horse racing.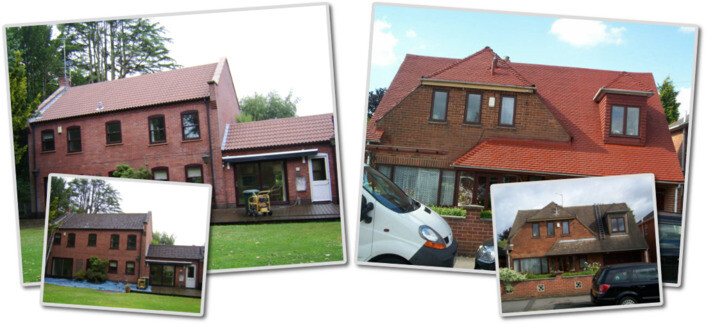 Stand back and take a look and the chances are you will see the majority of properties in Newmarket have spotless windows, clean and tidy driveways and flowers in full bloom, however, if you look up at the roofs you will see they are covered in moss, dirt and algae which ruins the look of an otherwise perfect picture. This moss, dirt, algae and lichens that intensify and spread are not the untreatable product of an ageing roof and they are certainly not a sign your roof needs to be replaced. They are a sign that the roof is in need of a clean and the moss removed.
Due to the damp climate in the UK moss tends to grow profusely especially on the north side of the roof or in those parts of the roof covered by overhanging trees. Shade blocking out the sun makes it ideal for moss to multiply and grow in abundance. Couple this with dew in the morning and rain showers which adhere onto the moss, this leads to less evaporation and triggers multiplication until the entire roof is slowly taken over and fully covered with a 'blanket' of moss.
How can this problem be tackled? Our professional roof cleaning contractors will first pre-treat the roof to remove the mould, mildew, fungus, algae, lichen, moss and then deep clean the roof with specialist equipment. Once your roof has been cleaned and restored to its natural look we will follow up with a biocide treatment that prevents fungal re-growth. You then have the option of a protective waterproof sealer with our 10-year guarantee.
Having your roof cleaned, moss removed and restored will help you to achieve your roof's full life expectancy and improve the overall kerb appeal of your home in just a few hours. If you would like a FREE no obligation quotation for any roof cleaning or moss removal in Newmarket please call us now on 0800 849 9498 or click HERE to complete our online enquiry form.
We look forward to hearing from you when you are ready to have your roof restored.