Roof Cleaning Northumberland and Roof Moss Removal Northumberland
Northumberland is the northernmost county in England and borders Tyne and Wear to the south and Scotland to the north. It has an eclectic mix of residential and commercial properties many of which due to the damp Northumberland climate suffer from an abundance of moss on the roof. However, there is help at hand as Nationwide Roof Cleaning can provide roof cleaning Northumberland and service for roof moss removal Northumberland. Our roof cleaning Northumberland service is available in most towns including Blyth, Cramlington, Ashington, Morpeth, Tynemouth and Berwick upon Tweed.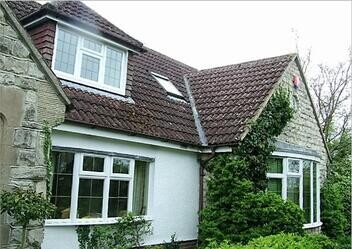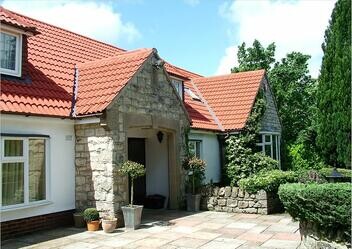 Moss on a roof is not just a cosmetic problem, many people ignore it simply because they think that it mars the look of their home. The truth is the unsightly moss on a roof can actually reduce its lifespan which could result in requiring a new roof. This will be considerably more expensive than our roof cleaning and moss removal service. Moss on a roof not only looks unsightly if left unchecked it can also lead to many other problems. Gutters and downpipes can become blocked plus the added weight of wet moss can cause stress on a roof structure. This can result in premature degradation of your roof which could cost you a substantial amount of money for roof repairs, so you may want to consider roof cleaning Northumberland.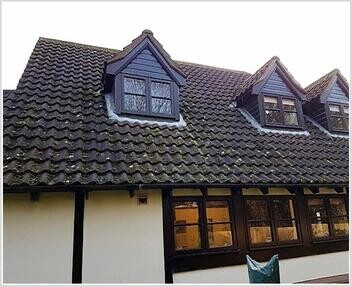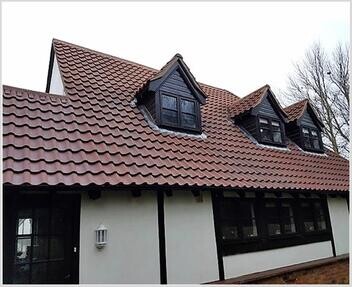 Nationwide Roof Cleaning has a network of professional roof cleaning contractors who are experts in roof cleaning and moss removal on Northumberland. There is also the option of additional protection to your roof by applying a roof tile sealer or coloured coating. By making the roof tiles water resistant it is much harder for moss or algae to grow as the tiles stay drier for longer.
Roof Painting Northumberland and Roof Coating Northumberland
Many people will call it to roof painting when they are thinking about restoring the roof tiles to their original colour. If you are looking for roof tile painting in Northumberland we can help. Roof tile painting can transform the look of an old roof as it will improve the appearance and extend its life. There is no doubt when we are finished that you will see the difference your property will be transformed and the overall kerb appeal is improved. Roof coating or roof tile painting can also add value to your home as a new roof is much more appealing to a potential purchaser than one covered in moss and lichen, as all experts in roof cleaning Northumberland will advise.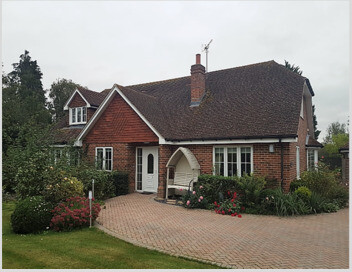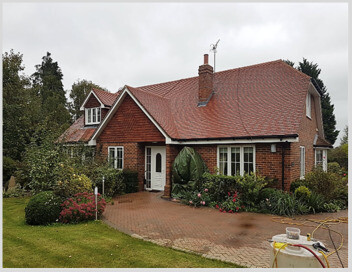 Tile Sealing Northumberland
Climashield™ roof tile sealer is suitable for most types of roof tiles including, slate, concrete, clay and stone. It offers protection against dirt and grime by means of advanced surface impregnation. In addition, it seals porous surfaces without altering their natural appearance. If you would like your roof tiles sealing after they have been cleaned then we can provide a free quote and survey for this service in roof cleaning Northumberland.
We have a network of independent 'Professional Roof Cleaners' operating throughout the UK who are trained in the use of our products and provide a full range of roof cleaning and restoration services. To help you obtain a competitive quote up to 3 Registered Roof Cleaning Contractors will be given the opportunity to submit a quote to undertake the work. Our Registered Contractors are Independent Businesses, who should at all times conduct themselves in a professional and responsible manner.
By working with one of our Registered Roof Cleaning Contractors you have the peace of mind of knowing that you are dealing with an established independent company who have a proven track record in the industry.
Our roof moss removal service in Northumberland is available in most of the towns throughout the county. If you require a FREE no-obligation quotation for roof cleaning Northumberland in Blyth, Morpeth, Ashington or Berwick upon Tweed in Northumberland, please call us on 0800 849 9498 or complete our online enquiry form.