Request a Free Quote
Biowash Non-Pressure Roof Cleaning
Roof Cleaning Salford and Roof Moss Removal Salford
In the North West part of England during the winter months, roofs are susceptible to damp, wet and cold, with Salford being no exception. Moss, algae and lichens thrive in these conditions, which during the cold period, tend to become more apparent to homeowners. We have a team of local contractors who are experienced in cleaning and sealing of roof tiles. Our dedicated teams provide a full roof cleaning Salford and roof moss removal Salford service across the city.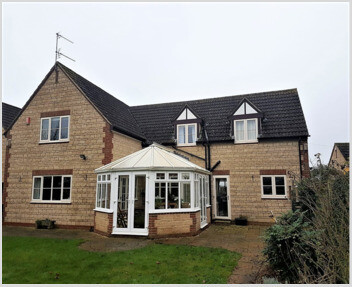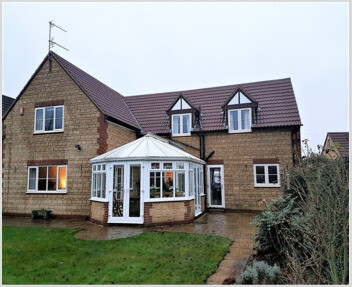 During the process of cleaning your roof, we will always ensure that upheaval and mess are kept to a minimum. As part of our service, we clean gutters and windows so when we're finished, apart from a clean roof and no more moss, you won't even know we were there.
Our teams have invested in the most up to date equipment, which will help ensure your tiles are professionally cleaned without risk of damage or breakages. The range of services we offer is available for any type of commercial or residential property in the Salford area.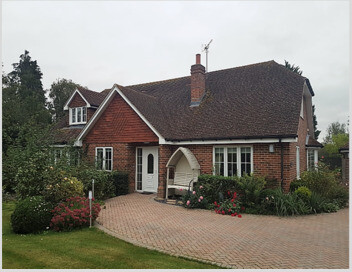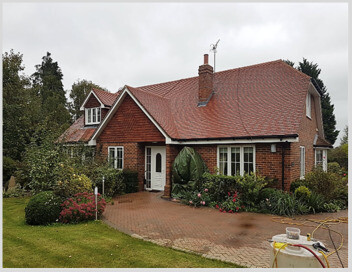 Roof Tile Painting Salford
Roof coating or roof tile painting is just one area that can make a significant difference to the value of your home. If roof tiles are left too long without being looked after, they can detract from the look of a nice home. Unfortunately, due to access issues, the roof is generally the last area of consideration when it comes to maintenance around the home.

Roof tiles are very susceptible to continuous weathering and because of this, become more and more porous over time. As a result, this creates the ideal conditions for the growth of moss and lichens on roof tiles. Roof tiles which may have looked great to start with can begin to look very tired and grubby. Most people just accept that their roof will look dirty and are not aware of the options to create a better-looking roof. Replacing a roof is not an option because of the expense and this is generally only done when a roof is damaged beyond repair.

Roof coating or roof tile painting as some people call it is a much cheaper and more cost-effective alternative than replacing a roof. Roof coating is also a much quicker solution as it will only take a couple of days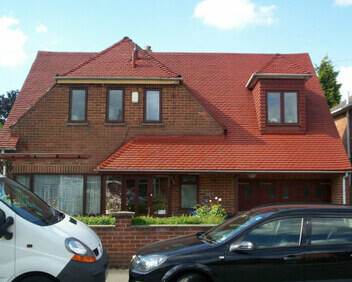 Roof Tile Sealing Salford
Having a clear roof tile sealer applied will help to protect any porous roof tiles from deterioration. Concrete roof tiles, in particular, are susceptible to moss growth, so making them non-porous can certainly help. Moreover, it is a much more cost-effective solution than the expensive replacement of a roof.

Another problem resulting from damp, porous roof tiles is higher energy bills due to the transference of heat from inside to out. Roof tile sealing can help reduce energy bills by keeping the roof tiles dry and preventing heat transference. Moreover, it will protect and improve the appearance of the roof as well as creating an invisible barrier preventing damp penetration.
Due to the very high levels of water resistance, Climashield™ Roof Sealer provides protection against dirt and grime. Using advanced surface impregnation it seals porous surfaces without altering the natural appearance. What's more once sealed the tiles will be protected against harsh weather conditions.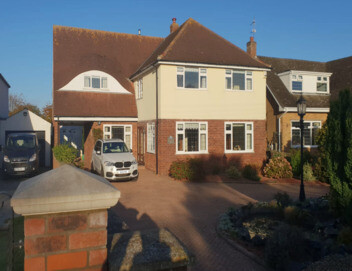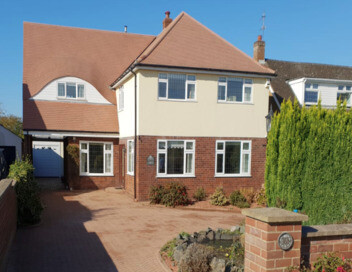 When considering any kind of work on your property, always check that contractors are fully insured. All our teams have adequate personal and public liability insurance, with policies available of inspection on request.
If you live or work in Salford and would a quote for roof cleaning, please call us today on 0800 849 9498 or make an enquiry online. We also provide walls and render cleaning, get in touch to find out more
Even if you live locally, you might not be aware that Salford, a derived word from old English meaning 'a ford by the willow trees, was granted city status in 1926. The area boasts many tourist attractions such as Ordsall Hall – a historic manor house, which dates back more than 750 years. For those of you interested in the local culture we have the Lowry Centre, an award-winning theatre and art gallery complex. The city also has some famous Salfordians including footballer Paul Scholes, who played for Manchester United and England and John Virgo, an ex-professional snooker player and the 1979 UK Champion.