Request a Free Quote
Biowash Non-Pressure Roof Cleaning
Roof Cleaning Perth and Roof Moss Removal Perth
Perth is a mid-sized city in central Scotland, that can be found on the banks of the River Tay. Although Perthshire is the county, the main council administrative centre is called Perth and Kinross. The city of Perth and its suburbs has a population of just under 50,000 according to the most recent census. It is a city with a rich history dating back thousands of years, it was once known as the 'Capital of Scotland'.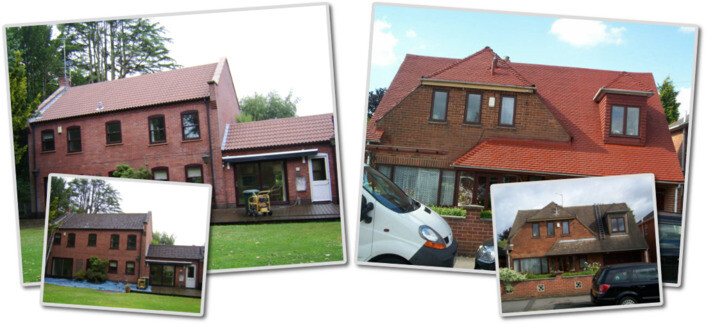 Although there are many new homes mainly around the extended suburbs of Perth a large percentage of the housing stock is older with many properties dating back over 100 years. This means there are so many different roof types to clean, which in itself can pose a number of problems for roof cleaning companies in Perthshire. Great care needs to be taken with older roof tiles when cleaning as they can break easily and finding a match to an old broken roof tile in Perth can be difficult.

The damp climate in Perth and Kinross means the growth of moss on porous roof tiles is inevitable and this is why we receive so many enquiries from homeowners who need their roofs cleaned. Many just don't like the look of their roofs when the moss becomes too prominent and want it cleaned off as quickly as possible. Other homeowners experience problems with their roof tiles becoming damaged as the moss and algae spread, with the ingress of water a major issue.

Our roof cleaning services for Perth and Kinross include quick moss removal and an application of a biocide to prevent rapid re-growth. We can also apply protective clear roof sealers or coloured roof coatings to improve the aesthetic appearance of your home and help prevent re-growth of moss over a longer period by making the roof tiles water resistant.

If you would like a soft wash of your roof including any soffits or fascias, we can also arrange this. Soft washing is very big in America and catching on fast here; it's a simple process whereby a roof can be cleaned from ground level using a chemical mix to gently remove moss, algae and ingrained dirt and grime.
Ask for a FREE quotation for roof cleaning and moss removal in Perth and Kinross by phoning 0800 849 9498 or complete our online enquiry form.